Owls and hawks were among the birds of prey who visited a Devon care home as part of an activities programme aimed at boosting residents' wellbeing.
The raptor birds from Sharandys near Chard in Somerset, visited The Seaton care home in Seaton where residents were able to hold and stroke the birds, as well as watch them take flight.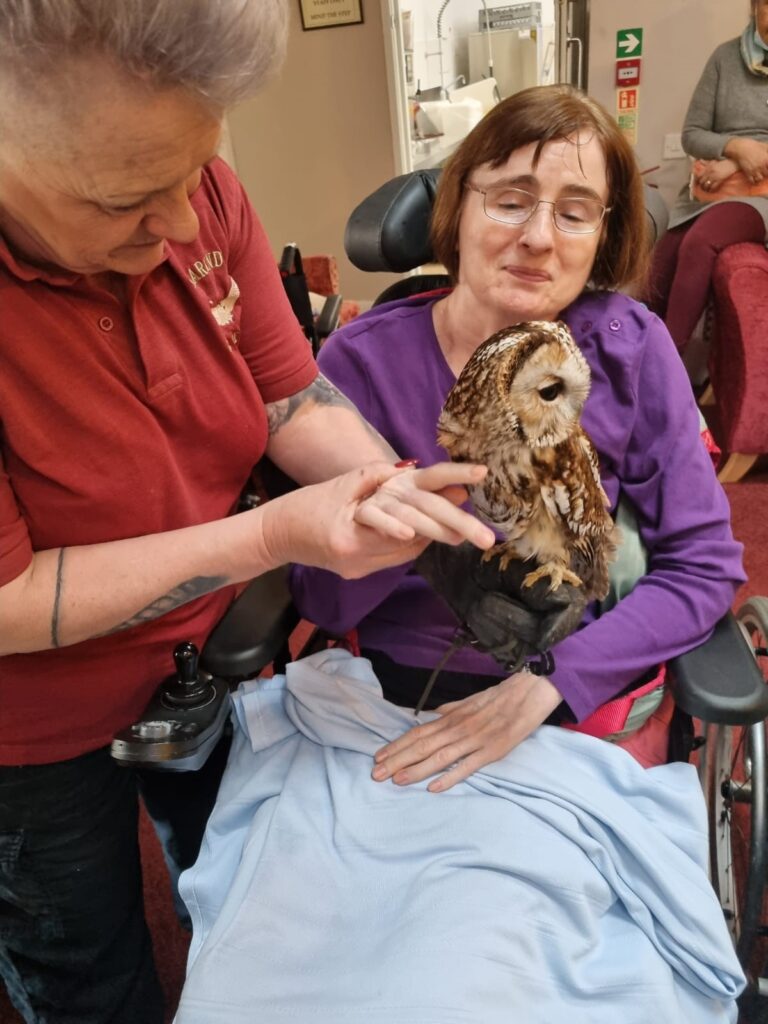 The manager of The Seaton care home, Emma Seal says: "Watching birds of prey flying across the resident's lounge is an amazing sight. The residents really enjoy learning about and engaging with the birds. They were able to hold one bird and stroke an owl, which was a particularly special moment for one of our residents who has multiple sclerosis."
The Seaton is one of four Devon care homes owned by Southern Healthcare, which places residents' wellbeing and quality of life at the top of their agenda. Each of the homes has a dedicated events coordinator who is responsible for providing engaging, stimulating and mood enhancing activities for the residents.
Animal therapy has proven to be beneficial for elderly people because it can have a calming effect, improving mood and energy levels, as well as encouraging conversations.
Sharandys was founded 18 years ago, and it currently looks after 32 owls, hawks, falcons and eagles. The organisation is run by Sharan Cox who has had a passion for birds since she was a child. She began keeping raptor birds about 20 years ago.
Sharan enthuses: "As a child I had pet budgies and parrots and then as an adult I owned a hawk. I wanted to find a way I could share my passion and love for birds with other people, and Sharandys was started."
Sharandys offer pre-booked birds of prey experiences for all age groups, and they also visit schools and events. They have been visiting The Seaton for more than five years.
Sharan adds: "We usually take four birds to The Seaton – one bird the residents can hold and a large owl, so that the residents can gently stroke its breast feathers. We always finish our visit by going to the residents' bedrooms so that no one misses out."
Sharandys are currently seeking free advice on how to become a registered charity to help fund the organisation. Sharan explains: "The cost of looking after the birds has rocketed with increased biosecurity measures following the avian flu outbreak, and the cost of feed and bedding due to the cost-of-living crisis."
For more information or to donate to Sharandys visit sharandysbirdsofprey.com