Care Home Activities and Wellbeing
We believe that it is vital for people to be able to engage with the activities they enjoy – whether this be arts and crafts, baking, music, themed days – or simply relaxing in the garden with a cup of coffee.
Each of our homes has a dedicated activities team – and they produce a huge variety of entertaining ideas – from dressing up to mark World Book Day to enjoying a taste of European food and culture.
Music plays an important part in the life of our homes. We stage concerts and events to suit all musical tastes and even have our own jazz quintet.
Enjoying the great outdoors
For getting out and about, we have two Southern Healthcare minibuses, which our homes use to take people on day trips. We have visited many fabulous places throughout Devon and plan to do so again once the pandemic is over.
We feel strongly that a connection with the natural world is vital for wellbeing in later life. Our gardens and outdoor areas are planted with to create havens of tranquility with plants to stimulate the senses.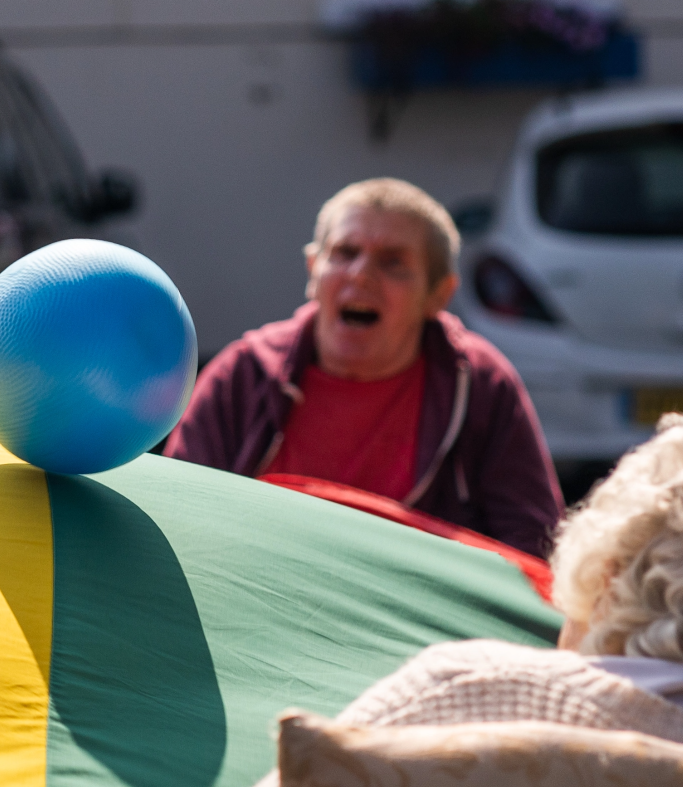 We believe that pets can help bring a tremendous amount of love and connection in our homes. Interactions with all kinds of animals, forms a big part of engagement with staff and residents on a daily basis. We regularly host miniature horses, alpacas, dogs and guinea pigs. We have even had visits from bearded dragons and birds of prey. Animals always guaranteed to bring soothing benefits – along with fun and laughter.
Keeping close connections
Family and friends are encouraged to join in with everything that is happening in the home and to suggest activities. Each home holds festivals, where lavish food and entertainment is laid on. We also hold events such as vintage tea parties in the summer and cosy Christmas entertainment.
Being part of the life of the home not only enhances the wellbeing of residents but helps to develop the strongest possible bonds between staff, the people they care for and their and loved ones.
Once our doors are fully open again, we shall be inviting pupils from primary schools near to each of our homes to visit us. Bringing together different generations to share memories and fun has been repeatedly shown to boost the mental health of all concerned.
Music plays an important role in life at our homes: Research has shown that listening to music is particularly beneficial to people with dementia, as it seems to have a calming effect while aiding cognitive function.
Our multi-talented Managing Director, Geoffrey Cox, has formed the Southern Healthcare Quintet, in which he plays guitar and drums.  The quintet performs a varied musical programme – from swing to more recent hits.
The group visits all our homes throughout the year – along with singers and other musicians.
The aim is to produce a lively, fun atmosphere, where residents are encouraged to request and sing-along to some of their favourite tunes – and sometimes even have a dance with the care staff to help make their day.