Staff at Sefton Hall Nursing and Residential Home in Dawlish wore colourful Chinese themed costumes to bring in the Asian New Year.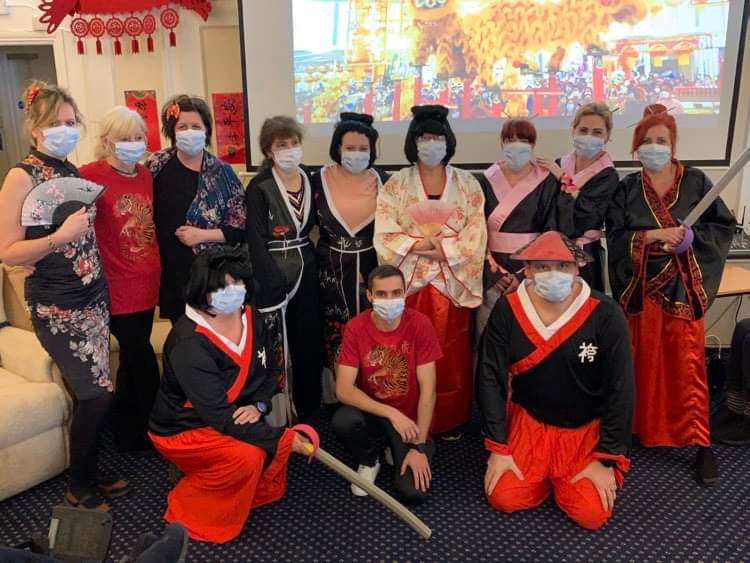 Residents watched a video of traditional Lion Dancing, and they were served Asian food to mark the start of the Year of the Water Tiger. Staff dressed in red, white and black Chinese costumes and accessorised with swords and fans.
Care Home Manager, Gabriela Ogreanu, said: "This was a lovely, uplifting event which brought a great deal of joy to our residents. We are looking forward to holding more activities, as we move towards spring and to welcoming back families and friends as visiting restrictions ease."
There are 12 Chinese zodiac animals, each animal is linked to certain characteristics and elements. In mainland China it is usually referred to as the spring festival. It is one of several lunar new years celebrated in different Asian countries.
Red decorations are a common sight during the celebrations. Red is considered a lucky colour in China and billions of red envelopes are sent to family and friends each year to mark the occasion. More than two billion people celebrate the festival worldwide.
In China, New Year celebrations culminate with the Lantern Festival on February 5th. Typically, people celebrate the festival by lighting lanterns, writing riddles, moon gazing, lion dances, and eating traditional food, including rice balls, dumplings, noodles, spring rolls, steamed fish and chicken.
The Lantern Festival began over 2000 years ago and it celebrates family reunions and society, as well as featuring ancient spiritual traditions. In Chinese Astrology, 2022 is the Year of the Water Tiger. Those born in the year of the tiger are said to be charming, brave, competitive etc. by Chinese astrologers. The Chinese zodiac has a 12-year cycle of animals, and each animal is associated with one of five elements – wood, fire, earth, metal, and water.