Three-week-old lambs from an organic East Devon farm visited Seaton care home to meet the residents.
Nicola Westlake from Westy and Worzel visited The Seaton with two of her pet lambs, Primrose and Dotty. Nicola's father-in-law Percy lives at the Southern Healthcare care home where residents were delighted to meet the young lambs.
Kelly Boweren, administration manager at The Seaton, enthused: "We had such a lovely visit from Nicola. She called us up and offered to bring the lambs because Percy lives with us. It was a fantastic treat, and the residents really loved it – one lamb even dozed off on Phyllis' lap."
Nicola and her family farm approximately 500 acres of Soil Association certified organic farmland along the Jurassic Coast World Heritage Site around Salcombe Regis, Branscombe and Beer. They rear 100 per cent grass fed Lleyn or Lleyn x Suffolk lambs and certified organic Aberdeen Angus and Hereford cattle. All their animals are born and reared on the coastal fields and wildflower meadows.
Nicola said: "Every single resident reacted with joy and pleasure at meeting the lambs. One resident farmed for about 50 years before retiring and she used to keep ewes. She sat with one on her lap for ages, having never thought she would hold a lamb again."
The residents spent about an hour outside in the garden stroking and holding the lambs and talking to Nicola and Percy about farm life as roported in the Midweek Herald and the Seaton Nub News.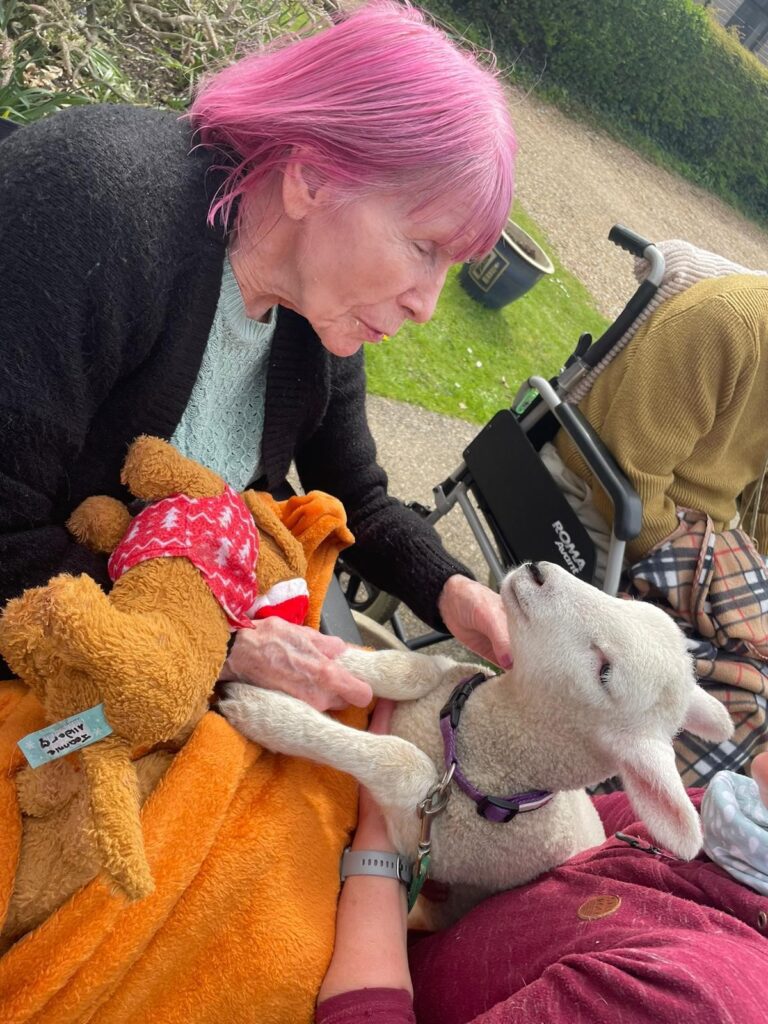 Nicola explained: "Percy has been at The Seaton since December. He helped his sons to set up the farm and he used to spend his weekends helping with the chores. Percy still takes a keen interest in the farm and so I thought I would bring a few of the lambs along for him and the other residents to meet."
She added: "Before, when I went to see Percy, I sat next to him and just talked to him. When I took the lambs there it felt more like a family because everyone was interacting with each other. Now when I go in there, I speak to the other residents too."
Westy and Worzel offer farm experiences from environmental walks to helping with farm chores and watching lambs been born.