Residents at Southern Helathcare's Devon care homes have been enjoying some equine therapy.
Margot Whittaker, the Director of Nursing at the group, runs a miniature horse stud and has been taking some of the cute creatures on a tour of the four care homes. The first stop was the Old Rectory in Exeter.
Margot said: "We went into the garden, and then walked around the ground floor, visiting people who wanted us to go in. The horses were amazingly good, and the weather was on our side too. The horses managed to walk over slippery floors, decking, grass and carpet, no problem! The residents seemed to love to see them, as well as the team. We were only there for around an hour and a half, then brought them home again. Carrots were aplenty, so the horses had a great time!"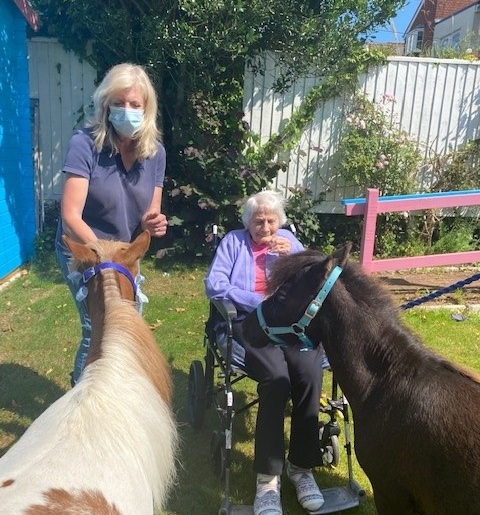 Margot has bred miniature horses for about seven years. She added: "The horses have been very successfully shown to a high standard, but now they will be retired, so that I can do more of this sort of thing. I have a fully adapted van for them, with my logo and pictures of the horses on the side, so people know we are coming!"
Home Administrator Rachel Fullard-Bell said: "It was wonderful to see the miniature horses in the home. They are such pretty creatures and the residents immediately responded to their gentle presence."
Equine therapy sessions are great for sensory touch through grooming and stroking, encouraging residents to reach out or maybe even take that extra step, if walking alongside a miniature horse. Studies show that sensory animal experiences can have a therapeutic, calming, and comforting effect on people of all ages. Interacting with a range of animals in a care home setting can also bring back childhood memories and encourage individual participation, as well as raising self-esteem.